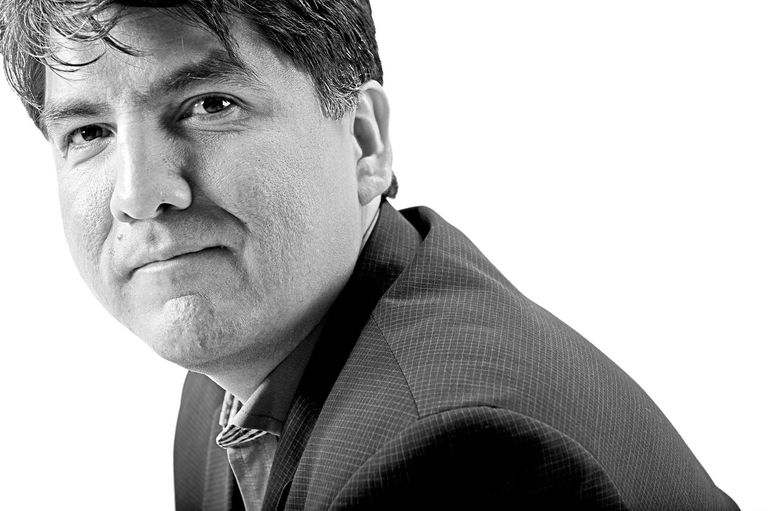 Sherman Alexie
1966
7 October: SA born in Spokane, Washington with hydrocephalus. His father was a member of the Coeur d'Alene tribe, and his mother was of Colville, Choctaw, Spokane and European American ancestry.
1967
At six months old, SA needs brain surgery to relieve the excess fluid in his cranial cavity. This will necessitate further surgeries throughout his life. He is also a diabatic and suffers from bipolar disorder.
As a child SA lives on the Spokane Indian Reservation, located west of Spokane. His parents are alcoholics, although his mother is sober. His father leaves for days at a time on drinking binges while his mother sews quilts and works as a clerk at the Wellpinit Trading Post.
SA says,
I spent most of my first seven years of my life off the reservation, in and out of hospitals, for speech therapy, physical therapy, occupational therapy, so it ended up being as a toddler that my primary peer group was white, adult doctors, nurses, social workers, therapists, nuns, priests at the Catholic hospitals, so you become who you're with. So in those early formative years, I was primarily influenced by all these obsessive-compulsive workaholic white people who had gone to college. So I was imprinted by white college graduates, I was like a little duckling following these white doctors and nurses.
1973
SA starts at the reservation school, where he is taught by white nuns (he calls their treatment of him "torture") and other students called him "the globe" because of his hydrocephalus. Until the age of seven he suffers from seizures, and has to take strong drugs to control them.
Because of his health problems, he is excluded from many of the activities that are rites of passage for young Indian males, but he excelled academically, reading everything available, including auto repair manuals. He has his nose broken five times after school "for being the smart kid."
1981
SA attends high school off the reservation, in Reardan, WA, where he is the only NA student. Again he excels at his studies, and becomes a star player on the basketball team, the Reardan High School Indians. He is elected as class president and is a member of the debate team.
1985
SA wins a scholarship to Gonzaga University, a Jesuit university in Spokane. Originally, he enrolls in the pre-med program with hopes of becoming a doctor, but finds he is nauseated during dissection in his anatomy classes. He switches to law, but finds that field is not suitable, either.
He feels enormous pressure to succeed in college, and consequently, begins drinking heavily to cope with his anxiety.
1987
SA drops out of Gonzaga and enrolls at Washington State University (WSU), where he takes a creative writing course taught by Alex Kuo, a respected poet of Chinese-American background. Kuo serves as a mentor to him, and gives Alexie an anthology entitled Songs of This Earth on Turtle's Back, by Joseph Bruchac. SA says this book changed his life as it taught him "how to connect to non-Native literature in a new way". He is inspired by reading works of poetry written by Native Americans. He reads a piece by Adrian C. Louis, a poet from the Payute tribe, and the words "Oh Uncle Adrian, I'm in the reservation of my mind" resonate. From that moment he knows he will be a writer.
1992
SA's first major collection, The Business of Fancydancing: Stories and Poems, is published through Hanging Loose Press. It is named a New York Times Book Review Notable Book of the Year. Susan Brill describes it as "stories and poems about reservation life— a life of alcoholism, commodity food, broken families, and a pervasive racism...."
With its success, Alexie stops drinking and quits school just three credits short of a degree.
SA is awarded an National Endowment for the Arts grant, and uses it to begin writing The Lone Ranger and Tonto Fistfight in Heaven.
1993
The Lone Ranger and Tonto Fistfight in Heaven is published. It wins a PEN/Hemingway Award for Debut Fiction Special Citation, the Lila Wallace-Reader's Digest Writers' Award, the Washington State Governor's Writers Award, and one of the stories in the volume is included in The Best American Short Stories 1994.
1994
SA marries Diane Tomhave. SA says, "My wife was the first romantic partner who understood both American and native parts of me— not so much the positive stuff, but the damage." They have two sons: Joseph and David.
1995
Reservation Blues is published.
SA is awarded a bachelor's degree from Washington State University.
1996
Reservation Blues wins the American Book Award from the Before Columbus Foundation, and the Morgan Murray Prize. SA is named one of the Twenty Best American Novelists Under the Age of 40 by Granta Magazine.
1996
Indian Killer is published. SA later distances himself from the book, the violence of which he now views with "overwhelming disgust." He claims, "It's a very fundamentalist, binary book, the product of youthful rage."
1998
SA modifies stories from The Lone Ranger and Tonto Fistfight in Heaven into the screenplay for Smoke Signals. It is the first commercial feature film written, directed, and acted by a Native American cast and crew.
2000
The Toughest Indian in the World is published. It wins the PEN/Malamud Award for Excellence in the Short Story.
2003
Ten Little Indians, another collection of stories, is published. It is nominated for a Los Angeles Times Book Award.
2007
The Absolutely True Diary of a Part-Time Indian is published. It wins multiple awards: a National Book Award for Young People's Literature; the American Indian Library Association Best Young Adult Book Award; the Boston Globe-Horn Book Award, Fiction and Poetry, the Odyssey Award as the year's "best audiobook for children or young adults"; and the California Young Reader Medal, Young Adult Book.
The book is controversial, and has been banned in many school districts for its grappling with the issues of sex and violence in the lives of teens. The National Coalition Against Censorship claims it is the book it defends more than any other.
SA responds to this controversy in a 2011 Wall Street Journal article, where he writes,
I have yet to receive a letter from a child somehow debilitated by the domestic violence, drug abuse, racism, poverty, sexuality, and murder contained in my book. To the contrary, kids as young as ten have sent me autobiographical letters written in crayon, complete with drawings inspired by my book, that are just as dark, terrifying, and redemptive as anything I've ever read.
2009
War Dances is published. It wins the PEN/Faulkner Award for Fiction.
2012
Blasphemy: New and Selected Stories is published.
2015
SA's mother, Lillian, dies.
SA undergoes brain surgery for a benign tumor.
2016
Upon the election of Donald Trump as POTUS, SA begins receiving death threats. He says,
I'm a Commie liberal brown dude. I don't believe them, but it still creates such fear—like with the candidates dropping out of races because of death threats. I don't think it would happen to them, and I don't think it's going to happen to me. But I do think that a brown-skinned liberal activist is gonna get assassinated.
2017
You Don't Have to Say You Love Me, a memoir about his mother, is published. SA says, "The big lie I've been telling in my autobiographical fiction is that my mother is not the source of my art. My mother is the source of my art, period. All the love and forgiveness and the things I could never deal with, the rage, the cruelty, the towering arrogance. I wanted to think of myself more like my father because he is a gentle, passive person. Which I am not."
SA has to pause his book tour because of depression.
We all know the Indians were colonized by the Europeans. But every colonized Indian has been colonized by the Indian reaction to colonization. You'd never know it from reading the rest of the Native writers, but Indians actually grew up with American pop culture.