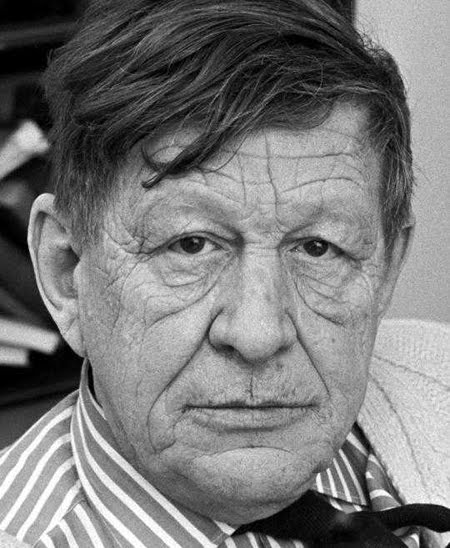 Wystan Hugh Auden
1907
February 21: Born in York, the third of three children. His father was a doctor and academic
Attends St. Edmund's School, Surrey. Meets and becomes friends with Christopher Isherwood.
1925
Attends Oxford. While there he begins writing poetry and establishes his reputation. Becomes friends with Cecil Day Lewis, Louis MacNeice, and Stephen Spender, who become known as the "Auden Group." Take a third in English (the lowest passing degree). His first collection is rejected by T.S. Eliot at Faber and Faber.
1928
Graduates from Oxford. Spends almost a year in Berlin. Meets Christopher Isherwood, who becomes a life-long friend. While there he comes to a clear understanding of his sexuality, and when he returns to England he breaks off his engagement.
1929
Writes in his 1929 journal that he likes to suffer and sees suffering as part of his identity as an artist. He also says in the journal that the torment of being gay was, for him, one of its attractions; he associates mutual love with despair.
1930
Eliot accepts Poems for Faber and Faber. A becomes a schoolteacher at two successive boarding schools.
1935-39
Works as a freelance reviewer, essayist, and lecturer, first with the G.P.O. Film Unit (a documentary film-making branch of the post office). Through this work in 1935 he meets and collaborates with Benjamin Britten, with whom he also worked on plays, song cycles, and a libretto.
Collaborates with Isherwood on three plays: The Dog Beneath the Skin (1935) The Ascent of F6 (1937), On the Frontier (1938), and one non-fiction travel text: Journey to a War (1939).
1935
Enters into a marriage of convenience with Erika Mann that gives her a British passport with which to escape the Nazis.
1937
Travels to Spain intending to drive an ambulance for the Republic in the Spanish Civil War, but is put to work broadcasting propaganda, a job he leaves in order to visit the front. His time in Spain affects him deeply, and his social views grow more complex as he finds political realities to be more ambiguous and troubling than he had imagined.
1939
Leaves Britian for the US, with Isherwood, in order to avoid WWII. Isherwood goes to California, Auden stays in New York.
1940-41
Lives in a house in Brooklyn Heights which he shares with Carson McCullers, Benjamin Britten, and others, and which becomes a famous center of artistic life.
In 1940, he joins the Episcopal Church, returning to the Anglican Communion he had abandoned at thirteen. His reconversion was influenced partly by what he called the "sainthood" of Charles Williams, whom he had met in 1937, partly by reading Søren Kierkegaard and Reinhold Niebuhr; his existential, this-worldly Christianity became a central element in his life
1941-42
Teaches English at the University of Michigan.
1942-45
Teaches at Swarthmore College.
1945
Settles in Manhattan, working as a freelance writer, and as a lecturer at The New School for Social Research and a visiting professor at Bennington, Smith, and other American colleges
1946
Becomes a naturalized citizen of the US.
1948
Begins summering in Europe, first in Ischia, Italy, where he rents a house, then, starting in 1958, in Kirchstetten, Austria where he buys a farmhouse.
1956-1961
Professor of Poetry at Oxford University, where he gives three lectures each year. This fairly light workload allows him to continue to winter in New York, where he now lives on St. Mark's Place, and to summer in Europe. He earns his income mostly by readings and lecture tours, and by writing for The New Yorker and other magazines.
1972
Moves his winter home from New York to Oxford, where his old college, Christ Church, offers him a cottage, but he continues to summer in Austria.
1973
September 29: dies in Vienna and is buried in Kirchstetten.
Art is our chief means of breaking bread with the dead