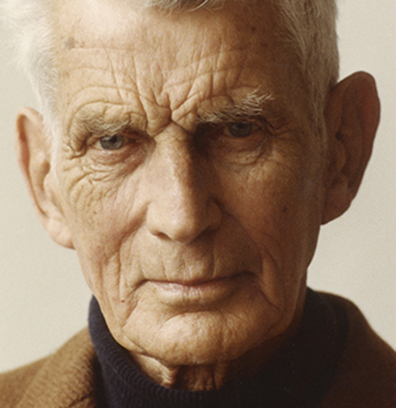 Samuel Beckett
1906
April 13: Samuel Barclay Beckett is born near Dublin, Ireland. Middle class and Protestant, his father was a quantity surveyor and his mother was a nurse. Looking back on his childhood, he once remarked, "I had little talent for happiness."
1919
SB is sent off to the Portora Royal School in Enniskillen, County Fermanagh -- the same school Oscar Wilde attended.
1923
SB begins his studies at Trinity College, Dublin.
1927
SB graduates from Trinity College, Dublin, with a Bachelor of Arts degree in French, Italian, and English.
1928
SB moves to Paris.
1929
Meets James Joyce, whom he will later serve as a research assistant/amanuensis. He helps Joyce research what later becomes Finnegan's Wake.
Publishes his first work, a critical essay defending Joyce's writings.
1930
Returns to Trinity College as a lecturer.
"Whoroscope" wins first place in a competition for a poem about time.
1931
SB earns a Master of Arts degree from Trinity College.
He publishes Proust, a collection of essays.
1934
SB publishes his first novel, More Pricks than Kicks.
1937
SB has a brief affair with the art collector Peggy Guggenheim.
1938
SB publishes his second novel, Murphy.
He is hospitalized after being stabbed in the street by a man who approaches him asking for money.
1940
Unhappy with the German occupation of his adopted homeland, SB joins the French Resistance.
1942
Several members of SB's underground resistance group are arrested by the Gestapo, and he is forced to flee to the unoccupied zone.
1945
SB returns to Paris.
Awarded the Croix de guerre and the Médaille de la Résistance by the French government for his efforts in fighting the German occupation. To the end of his life, B refers to his work with the French Resistance as "boy scout stuff."
1951
SB publishes two more novels, Molloy and Malone Dies.
1953
5 January: Waiting for Godot premieres at the Théâtre de Babylone in Paris. The "strange little play in which nothing happens" enjoys a run of 400 performances.
He publishes two more novels, Watt and The Unnamable.
1957
3 April: Endgame premieres at the Royal Court Theatre in London under the direction of Roger Blin. The play is well received and secures Beckett's position as a master dramatist.
19 November: A company of actors from the San Francisco Actor's Workshop present Waiting for Godot at the San Quentin penitentiary for an audience of over fourteen hundred convicts. The production is a great success.
1958
28 October: Krapp's Last Tape premieres at the Royal Court Theatre in London.
1961
SB publishes How It Is, his last full-length prose work.
25 March: In a secret civil ceremony, SB marries Suzanne Deschevaux-Dumesnil.
1969
10 December: SB is awarded the Nobel Prize for Literature. He refuses to attend the ceremony.
1973
16 January: Not I premieres at the Royal Court Theatre in London.
1976
20 May: That Time and Footfalls premiere at the Royal Court Theatre in London.
1979
SB publishes Company, a novella.
1981
Ohio Impromptu premieres at Ohio State University.
1982
SB publishes another novella, Ill Seen, Ill Said.
Catastrophe, written for Vaclav Havel, is performed at the Avignon Festival.
1983
15 June: What Where premieres at the Harold Clurman Theatre in New York.
1984
SB is elected Saoi of Aosdána. Saoi is the highest honor that members of Aosdána (an organization of people in Ireland who have achieved distinction in the arts) can bestow upon a fellow member. No more than seven living members can be so honored at one time
He publishes his final novella, Worstword Ho.
1989
17 July: SB's wife Suzanne dies.
22 December: SB dies at the age of 83. Although he continues to write until his death, he says, in the end, that each word seems "an unnecessary stain on silence and nothingness."
Yes, in my life, since we must call it so, there were three things, the inability to speak, the inability to be silent, and solitude, that's what I've had to make the best of.