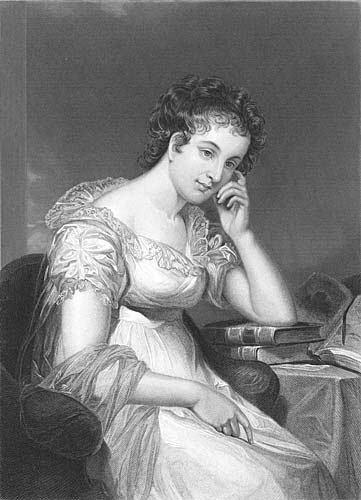 Maria Edgeworth
1767
ME Born at Black Bourton, Oxfordshire, second child of Richard Lovell Edgeworth.
1773
Death of ME's mother, Anna Maria Edgeworth (née Elers). RLE marries Honora Sneyd of Lichfield. ME's first visit to Ireland.
1775-80
At school at Derby.
1780
Death of Honora, RLE's second wife. RLE marries her sister Elizabeth. ME at school in Upper Wimpole Street, London.
1782
ME settles in Ireland, at Edgeworthstown, her father's estate in County Longford. Irish Independency established.
1787
The Freeman Family begun; resumed as Patronage in 1809.
1791-2
Visit to Clifton.
1794
Castle Rackrent begun.
1795
Letters for Literary Ladies, ME's first book, partly an epistolary novel. In this she expresses views very close to those of her father. Her critics have claimed that much of her work was due to her father's influence, and it is argued that, but for him, some of her works would be free from the frequent moralizing which makes them somewhat less palatable to the uncommitted reader.
1796
The Parent's Assistant, a collection of children's stories.
1797
Death of Elizabeth, RLE's third wife.
1798
RLE marries Frances Beaufort. Practical Education, a textbook for children, written with RLE and other members of the family.
1800
Castle Rackrent, an Hibernian Tale taken from Facts, and from the Manners of the Irish Squires before the year 1782, is published anonymously. It's the first of her work written written without her father's supervision. It is the story of an Irish estate and its owners, the Rackrents, as told by Thady, the steward. Its success is immediate, and a second edition soon appears with the author's name. Perhaps because of the absence of RLE's cooperation, the book is the most natural and vigorous of her novels. The course of the story is not altered to suit any moral, and the characters appear to be drawn immediately from the natives of Edgeworthstown, though ME asserts that only Thady himself was an actual portrait. In her realistic pictures of Irish peasant life she opened up a new vein in fiction, and even if the unquestionable excellences of Castle Rackrent were less, it would still be a noteworthy book.
1801
Moral Tales for Young People, a collection of short stories in five volumes. This, and the rest of her work until 1817, was commented on and frequently amended, by RLE.
1801
Belinda, a novel.
1802
Travels to Brussels and Paris. ME refuses an offer of marriage from a Swedish Count.
1804
Popular Tales and The Modern Griselda.
1806
Leonora
1809-12
Tales of Fashionable Life, six volumes of short stories. Includes "The Absentee", one of her best stories, which was originally designed as a play.
1814
Waverly is published anonymously by Sir Walter Scott. ME recognizes the author and writes to him. By 1829, in a new edition, Scott writes: "Without being so presumptuous as to hope to emulate the rich humour, pathetic tenderness, and admirable tact which pervade the works of my accomplished friend, I felt that something might be attempted for my own country, of the same kind with that which Miss Edgeworth so fortunately achieved for Ireland."
Patronage, her longest novel.
1817
Ormond
RLE dies. ME's literary output drops off, as she works on his memoirs (published in 1820).
1826
Concerns herself primarily with running the family estate.
1845
The first signs of the famine appear in Ireland, and in the following years along with starvation came disease and death. The Edgeworths do what they can to alleviate the suffering and ME has a large quantity of flour and rice sent over from Boston to give out among the starving. The Edgeworths go hungry too, and barely survive.
1849
Dies.
Surely it is much more generous to forgive and remember, than to forgive and forget.