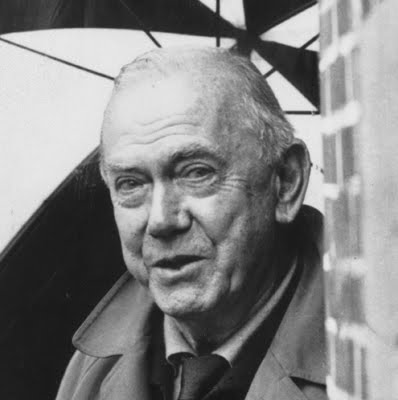 Graham Greene
1904
2 October: Henry Graham Greene born in St. John's House, a boarding house of Berkhamsted School in Hertfordshire, where his father is housemaster.
1910
Attends Berkhamsted School as a boarder. Becomes lonely and depressed, and attempts suicide several times by playing Russian roulette and by attempting to overdose on pain medications before going swimming.
1920
Sent for psychoanalysis for six months in London. Returns to school as a day student.
1921
Attends Balliol College, Oxford, "drunk and debt-ridden." Edits school paper. Suffers from depression, but keeps to mimself. Evelyn Waugh, who was his contemporary there, said of him, "Graham Greene looked down on us (and perhaps all undergraduates) as childish and ostentatious. He certainly shared in none of our revelry."
1922
Joins the Communist Party of Great Britain.
1925
Volume of poetry published. It is poorly received.
Graduates with a BA in Modern History.
1925-1928
Works on newspapers as subeditor. While with the Nottingham Journal he begins a correspondence with Vivien Dayrell-Browning, a Catholic convert, who had written to him to correct him on a point of Catholic doctrine. As he thinks about marrying her, he seeks instruction in Catholicism, and moves from "the ground of dogmatic atheism" (he calls it "the 'if' surrounding God's existence") to the point that "after a few weeks of serious argument the 'if' was becoming less and less improbable."
1926
Converts to Roman Catholicism.
1927
Marries Vivian; they have a daughter, Lucy, and a son, Francis.
Quits job at The London Times to become full-time writer.
1929
His first novel, The Man Within, is published. It, and two others that follow, are not successful. GG supplements his income with freelance journalism, book and film reviews for The Spectator, and co-editing the magazine Night and Day, which folds in 1937. Greene's film review of Wee Willie Winkie, featuring nine-year-old Shirley Temple, cost the magazine a lost libel lawsuit. Greene's review stated that Temple displayed "a dubious coquetry" which appealed to "middle-aged men and clergymen". It is now seen as one of the first criticisms of the sexualization of children for entertainment.
1932
His first successful novel, Stamboul Train, is published. It is taken on by the Book Society and adapted as the film Orient Express (1934).
1933
Daughter, Lucy, born.
1936
Son, Francis, born.
1938
Brighton Rock published.
1939
The Confidential Agent published.
1940
The Power and the Glory published.
Becomes Literary Editor and Drama Critic for The Spectator. Begins to work for the Ministry of Information.
1941
Wins the Hawthorden prize for The Power and the Glory.
Recruited into MI6 by his sister, Elisabeth. Posted to Sierra Leone. Kim Philby, who would later be revealed as a Soviet agent, is Greene's supervisor and friend at MI6.
1943
The Ministry of Fear published.
Returns to London, works for the Foreign Office.
1948
Wins the James Tait Black Memorial Prize for The Heart of the Matter.
GG and Vivien separate amicably.
1949
The Third Man published.
1951
The End of the Affair published.
1953
The Holy Office informs GG that The Power and the Glory is damaging to the reputation of the priesthood; but later, in a private audience with Greene, Pope Paul VI tells him that, although parts of his novels would offend some Catholics, he should not pay attention to the criticism.
1955
The Quiet American published.
1958
Our Man in Havana published.
Becomes a Director of the publishing firm The Bodley Head.
1960
A Burnt-Out Case published.
1966
The Comedians published.
Settles in Antibes, France, where he lives for the rest of his life.
1969
Awarded the Chevalier de la Legion d'Honneur by the French Government.
1973
The Honorary Consul published.
1978
The Human Factor published.
1982
Monsignor Quixote published.
1984
Becomes a Companion of Literature at the Royal Society of Literature in London and Commandeur des Arts et des Lettres in France.
1991
3 April: Dies in Vevey, Switzerland.