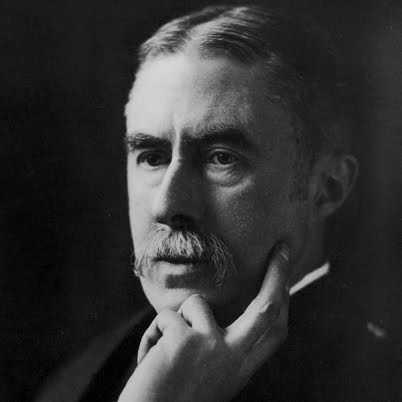 A. E. Housman
1857
March 26: Alfred Edward Housman born in Fockbury, near Bromsgrove, Worcestershire.
1869
AEH's mother dies, on his birthday.
1877
Wins an open scholarship to St John's College, Oxford. Rooms with Moses Jackson, who will become the great (unrequited) love of AEH's life.
1881
Fails the finals of his degree. Several biographers explain AEH's unexpected failure in his final exams as a result of Jackson's rejection, but most point to other reasons: his unconcern about philosophy, his overconfidence in his intellgence, his contempt for "inexact learning," his desire to spend all his free time with Jackson, and his father's rapidly failing health.
1882
Obtains a pass degree.
Jackson gets AEH a position as a clerk in the Patent Office in London, which he keeps for the next decade.
AEH puruses classical studies independently, and over the next decade will publish articles on writers such as Horace, Propertius, Ovid, Aeschylus, Euripides, and Sophocles.
1887
Jackson leaves England for India. When he returns in 1889 to marry, AEH isn't invited to the wedding, and doesn't know about the marriage until aftetr the couple has left the country.
1892
Appointed to the Chair of Latin at University College, London.
1896
A Shropshire Lad is rejected by a number of publishers, so AEH publishes it himself. Its reputation grows slowly over the next decade, and it has been in print continuously since 1896.
1911
Accepts the Kennedy Professorship of Latin at Trinity College, Cambridge, where he remains for the rest of his life.
1922
Last Poems is published. AEH calls them "last," because he believes that his inspiration is exhausted. Most of the poems in this volume were written before 1910.
1933
AEH speaks about his poetry in public for the first time, in the lecture "The Name and Nature of Poetry," in which he argues that poetry should appeal to emotions rather than to the intellect. The lecture is later published as a monograph.
1936
April 30: AEH dies in Cambridge.
1942
Laurence Housman (AEH's brother and executor) deposits an essay entitled "A. E. Housman's 'De Amicitia'" in the British Library, with the proviso that it is not to be published for 25 years. The essay discusses AEH's homosexuality and his love for Jackson. Despite the conservative nature of the times, AEH, as distinct from the prudence of his public life, was quite open in his poetry, especially in A Shropshire Lad, about his deeper sympathies.
The stars have not dealt me the worst they could do:
My pleasures are plenty, my troubles are two.
But oh, my two troubles they reave me of rest,
The brains in my head and the heart in my breast.

Oh, grant me the ease that is granted so free,
The birthright of multitudes, give it to me,
That relish their victuals and rest on their bed
With flint in the bosom and guts in the head.