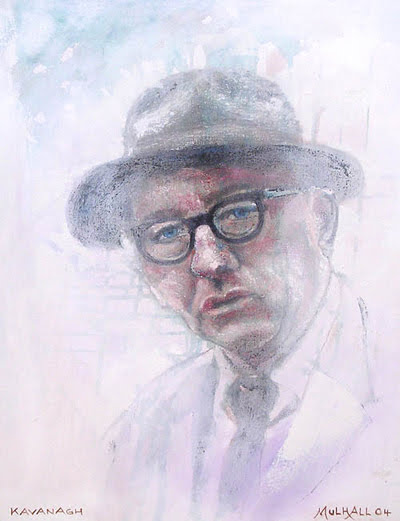 Patrick Kavanagh
1904
Born in Mucker townland Inniskeen, County Monaghan, the fourth eldest of ten children. His father, James,was a shoemaker and small farmer, an illegitimate son of a schoolteacher called Keaveney, which the local priest anglicized to Kavanagh.
1916
Leaves Kednaminsha National School at the age of 13.
PK educates himself with extensive reading, often while outside on the outlying farm under a bush. For twenty years he lives a life as an ordinary young Irish farmer of the period, toiling for pocket money on the family small farm.
PK's parents purchase an additional small farm for him at Shancoduff townland beside Rocksavage Fort. Like all the other local farmers he participates in rural life, buys and sells at fairs and markets, goes to Sunday Mass, attends wakes, funerals and weddings of neighbors, plays pitch and toss at the crossroads and cycles to dances. He is also goalkeeper for the Inniskeen Gaelic football team.
1930s
Many of his early poems appear in the 1930s in The Irish Statesman, whose editor, Æ (George William Russell), was the first to recognize and cultivate the peasant poet. Æ introduces him to modern world literature, providing him with books, advice, payment, and introductions to the Irish literary establishment.
1936
His first volume, "The Ploughman" and Other Poems is published by Macmillan Publishers to critical acclaim.
1938
Publishes The Green Fool, an autobiography. He was sued for libel by the writer Oliver St. John Gogarty. PK said of his first visit to Gogarty's home: "I mistook Gogarty's white-robed maid for his wife or his mistress; I expected every poet to have a spare wife." Gogarty, who had taken unreasonable offense at the close coupling of the words "wife" and "mistress", was awarded £100 in damages and the book was withdrawn.
1939
Moves to Dublin; works as a journalist. Writes book and film reviews, a range of critical and human interest pieces, city diaries, and various pieces for The Irish Press (as "Piers Plowman"), The Standard, The Irish Times, and Envoy.
1941
After the deaths of Yeats (1939) and Joyce (1941), seen as the leading figure in Irish literature.
1942
"The Great Hunger" one of his most admired works, appears. It does not enjoy unanimous or universal approval and all copies of The Horizon literary magazine in which it is published are seized by An Garda Síochána on the order of the Minister for Justice because the work is regarded by some as an attack on the sexual policies of the Catholic Church in Ireland, and considered inappropriate by the conservative political establishment.
1948
Publishes a novel, Tarry Flynn. It is banned in Ireland.
1952
Starts (and ends) his most ambitious journalistic venture when, with his brother's financial and managerial assistance, he produces Kavanagh's Weekly, which ran for thirteen issues (April 12-July 5). This production comprises the fullest expression of PK's "savage indignation" at the mediocrity of Irish life and letters. It is useful as a document of the Dublin ethos in the early 1950s and in reading PK's poetry of the same period.
In October, The Leader responds, in a spirit typical of the infamous factionalism of Dublin's literary politics, with a malicious "Profile," which prompts PK to file suit for libel. Following a celebrated trial, which PK lost, he falls dangerously ill with lung cancer. Eventually has a lung removed.
It is while recovering from this operation by relaxing on the banks of the Grand Canal in Dublin that Kavanagh rediscovers his poetic vision; he begins to appreciate nature and his surroundings and takes his inspiration from this for much of his later poetry.
1950s & 1960s
He gives lectures at University College Dublin and in the United States. He represents Ireland at literature symposia and becomes a judge of the Guinness Poetry Awards.
1967
April: Marries his long-term companion Katherine Barry Moloney (niece of Kevin Barry).
November: PK falls ill at the first performance of Tarry Flynn (which has been turned into a play at the Abbey in 1966) in the Dundalk Town Hall near his native village. He dies later that week in a Dublin nursing home on November 30. His grave is in Inniskeen adjoining the Patrick Kavanagh Centre. His wife is also buried there.
Homer's ghost came whispering to my mind.
He said: I made the Iliad from such
A local row. Gods make their own importance.