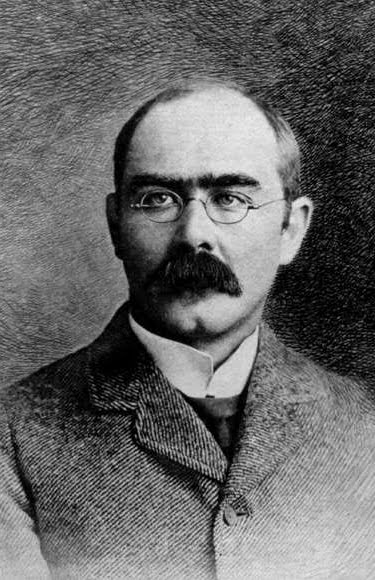 Rudyard Kipling
1865
30 December: Joseph Rudyard Kipling born in Bombay, son of John Lockwood Kipling (Head of Department of Architectural Sculpture at the government School of Art) and of Alice Kipling, nꥠMacdonald. Both of his grandfathers were Methodist ministers.
1868
First visit to England; his sister Alice ("Trix") born there.
1871
RK and Trix again taken to England and left there for six years, boarding with Captain and Mrs. Holloway at Lorne Lodge, Southsea; their parents returned to India. Captain Holloway died. Mrs Holloway disliked RK, who was also bullied by her son. RK becomes deeply unhappy.
1877
Alice Kipling arrives from India and takes her son away from Southsea, though Trix remains there for a time. RK becomes a pupil at the United Services College, Westward Ho!, Devon, a cheap boarding school for the sons of army officers and civil servants.
1880
Returning to Southsea to fetch his sister, RK meets her fellow-boarder Florence Garrard, with whom he falls in love. The relationship, more important to him than to Flo, would be broken off and resumed several times.
1881
RK is editor of the school magazine. A booklet of his poems, Schoolboy Lyrics, is privately printed by his parents without his knowledge. Leaves school. Returns to India in October and travels to join his parents, now at Lahore. Begins work there as assistant editor on the Civil and Military Gazette, a local English language newspaper for the British in northern India.
1883
Verses published in The Englishman of Calcutta and in the Civil and Military Gazette.
1886
Spends a month at Simla as correspondent of The Pioneer, a larger paper also owned by the proprietors of the Civil and Military Gazette. Departmental Ditties, comic poems about English in India, privately printed and immediately sold out. Second edition by Thacker, Spink & Co. of Calcutta.
1887
Transfers to The Pioneer at Allahabad. Makes friends with Professor Alec Hill and his American wife Edmonia, who would become an important influence. Sent to Rajputana as special correspondent, writing articles afterwards collected as Letters of Marque (1891).
1888
Boards with the Hills at their house in Allahabad. Editor of a weekly supplement The Week's News. Plain Tales from the Hills published by Thacker Spink. His Railway Library series of short stories published in six paperback volumes.
1889
Leaves India to become The Pioneer's roving correspondent. Travels with the Hills to Burma, Singapore, Hong Kong and Canton, Japan, and San Francisco. Crosses America, visiting Mrs. Hill it her family's home in Beaver Pennsylvania, where he meets her sister Caroline Taylor, to whom he becomes informally engaged. Arrives in London in September.
1890
Becomes so famous that his work is the subject of an editorial in The Times, 25 March. All his earlier books published in English and American editions. Engagement to Caroline Taylor broken off. Meets Flo Garrard in the street and tries unsuccessfully to resume the relationship. Has a nervous breakdown. Makes a new friend, American writer and publisher Wolcott Balestier, and meets his mother and sisters. Writes novel The Light that Failed. The City of Dreadful Night, a collection of articles from The Pioneer, published in Allahahad without his permission.
1891
Publishes Life's Handicap, short stories from his Indian years, with some new additions written free of any newspaper proprietor's supervision. Collaborates with Balestier in writing The Naulahka. Has further breakdown from overwork. Sets off on voyage to South Africa Australia, and New Zealand. Returns to India to spend Christmas with his family; but hearing of the death of Balestier from typhoid he rushes back to London.
1892
Marries Balestier's sister Caroline on January 18. They leave for a voyage round the world, stopping in in Brattleboro, Vermont, to visit her family, where her brother Beatty sells them plot of land for a nominal sum. They continue to Japan. RK's bank fails, leaving the couple with no assets but their travel tickets, which they exchange for return fares to Brattleboro, where the Balestiers find them a house. Daughter Josephine born in December. RK begins writing for children. Publishes The Naulahka, written in collaboration with Wolcott Balestier, and Barrack-Room Ballads and other Verses.
1893
Many Inventions, a collection of stories written before and after his marriage; including the last story narrated by the Irish soldier Mulvaney (until then his most popular character), and the first story about Mowgli, who would become the most important character in The Jungle Book. The Kiplings move to "Naulakha", a house they had built on the land purchased from Beatty Balestier.
1894
The Jungle Book
1895
The Second Jungle Book published.
1896
Second daughter, Elsie, is born. The Kiplings quarrel with Beatty Balestier and it ends in court. They leave Brattleboro and move to Torquay, in England. Publishes The Seven Seas, a collection of poems that include the popular patriotic cycle, "A Song of the English".
1897
Settles in Rottingdean, Sussex, near the Burne-Joneses and other connections. Their son John born. Publishes Captains Courageous, his novel on the New England fishing fleet. A collected edition of RK's work, Scribner's Outward Bound edition, is published in the United States by subscription. The story collections are rearranged by topic, and some uncollected material included.
1898
The first of many winter holidays in South Africa. RK travels to Rhodesia. Friendship with Cecil Rhodes. Publishes a short story collection, The Day's Work (including "The Maltese Cat," a story about polo ponies that would prove one of the most popular he ever wrote). Also publishes a series of articles on the navy, A Fleet in Being.
1899
The family pays their last visit to America. All the children become ill; RK and Josephine develop pneumonia, from which Josephine dies and RK almost does. On the outbreak of the Boer War RK becomes involved in a campaign for service charities, called (after a poem RK contributed) "The Absent-Minded Beggar Fund". During this year is published From Sea to Sea, an authorized version of travel articles and uncollected stories from The Pioneer, in two volumes, and Stalky & Co., a ground-breaking collection of school stories with a strong autobiographical content.
1900
RK visits South Africa, where he continues war work and writings, including two weeks in Bloemfontein on the newspaper The Friend, published by the British army. He is also working on long-running imaginative projects, Kim and The Just So Stories.
1901
His novel Kim published, last (and thought by many to be the most important) of RK's Indian writings.
1902
The house in Vermont finally sold. The Kiplings' final move, to Bateman's, Burwash, Sussex. Just So Stories for Little Children published, a collection of fables that (with The Jungle Book) have remained one of RK's most successful works.
1903
The Five Nations, poems about the Boer war and its aftermath, published.
1904
Traffics and Discoveries published, a collection of short stories that combines Boer war stories, naval stories, a farce about early motoring, and some of RK's most psychologically interesting and controversial work.
1906
Puck of Pook's Hill published, an innovative series of historical stories and poems primarily intended for children, inspired by the history of RK's new home at Bateman's and of the surrounding countryside.
1907
RK awarded the Nobel Prize for Literature. Visit to Canada.
1909
Actions and Reactions published, a collection of stories that includes his pioneering science fiction tale of flying-boats that nightly cross the Atlantic, "With the Night Mail." Abaft the Funnel is published in the United States without RK's permission, incorporating uncollected early work, followed by an authorized edition issued for copyright reasons by his New York publishers.
1910
Rewards and Fairies published, sequel to Puck of Pook's Hill but more complex. RK later writes that it was "really meant for grown-ups". Includes his single most famous poem: "If-"
1911
RK collaborates on A School History of England , with the right-wing historian C.R.L.Fletcher.
1913
Visit to Egypt. Publishes Songs from Books, a collection of poems that had been published in, or as introductions or afterwords to, his prose writings; some of them being expanded. The Harbour Watch, a play written in collaboration with his daughter Elsie, is performed in London but folds after a few performances.
1915
John Kipling reported missing, believed killed, in his first battle on the Western Front. From this time RK is constantly in pain from a gastric ulcer. He publishes some (censored) articles of war journalism, collected as The New Army in Training and France at War.
1916
Further war journalism: Sea Warfare and The Eyes of Asia.
1917
RK joins the War Graves Commission. He publishes A Diversity of Creatures, a collection of stories mainly written before the outbreak of war, but including two "tales of '15".
1919
The Years Between, a collection of poems written during the period from just after the Boer War until the aftermath of World War I. Includes "Epitaphs of the War."
1920
Letters of Travel 1892-1913, a collection of old articles on Japan, the United States, Canada and Egypt.
1923
The Irish Guards in The Great War ( 2 vols) , a regimental history compiled from soldiers's letters and diaries, and the reminiscences of survivors. Includes a typically terse and stoic reference to the death of his own son. Land and Sea Tales for Scouts and Guides published, a collection of old uncollected stories with two new additions and extra verse.
1924
Daughter Elsie marries Captain George Bambridge, M.C., ex-Irish Guards.
1926
Debits and Credits, a book of short stories that expands some of the material collected in writing The Irish Guards in The Great War, as well as resuming some topics of earlier Kipling stories: fables, animals, English history, Stalky & Co's views on education. The final story, "The Gardener," has been classed with "Mary Postgate" as of particular interest to feminists and to students of English society during World War I, while its ambiguous narrative also makes it interesting to students of modernism.
1927
Voyage to Brazil.
1928
A Book of Words published, a volume of collected speeches.
1930
Thy Servant a Dog published, a series about a family living in an English country house told from the viewpoint of their dogs. Visit to the West Indies and stay of three months in Bermuda, due to Mrs. Kipling's illness.
1932
Limits and Renewals published, RK's last story collection; includes some final stories on the injuries left by World War I, two imaginative tales from the life of St. Paul, and "Dayspring Mishandled" a much-studied tale of a literary forgery, with some bitter comments on the relationships between authors and critics.
1933
RK's ulcer finally diagnosed. Souvenirs of France published, a series of essays on RK's love affair with that country.
1936
18 January: Following a hemorrhage, RK dies.
At the end of the fight
is a tombstone white
with the name of the late deceased,
And an epitaph drear:
"A fool lies here
Who tried to hustle the East."