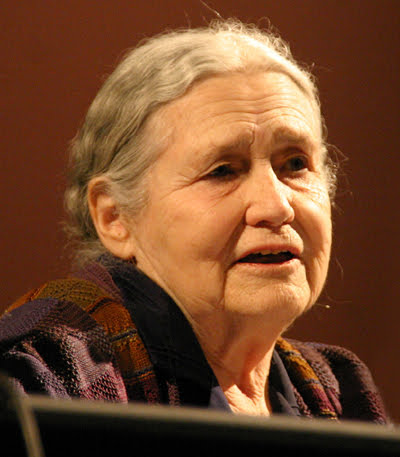 Doris Lessing
1919
22 October: Doris May Tayler born in Kermanshah, Persia (now Iran).
1925
Tayler family moves to colonial Southern Rhodesia to make their fortune farming.
1926
DL sent to a convent school, then a single-sex boarding school.
1922
DL drops out of school.
1934
DL leaves home and begins work as a nanny (later a stenographer).
1937
DL moves to Salisbury, works as a telephone operator.
1938
Marries Frank Wisdom, and has two children.
1943
Divorces Wisdom.
1944
Becomes active in the Left Book Club, a group of Communists "who read everything, and who did not think it remarkable to read."
1945
Marries Gottfried Lessing, a central member of the Left Book Club.
1949
Divorces Lessing, moves to London with her son from her second marriage.
1950
The Grass Is Singing published. The story, set in Rhodesia, focused on a poor white farm woman and her weak husband. She has a relationship with her African servant, Moses, who eventually kills her. It is both a look at the complicated nature of human relationships and the intractability of racial problems.
1951
Joins the British Communist Party during and campaigns against nuclear arms and South African apartheid. DL was for years banned from that country and from Rhodesia.
1962
The Golden Notebook published. Here a successful female author tries to live her life with the freedom of a man. It is now seen as a landmark of the nascent Women's Movement.
1969
The Four-Gated City, the final book in the Children of Violence series, published. The series is semi-autobiographical, about a woman named Martha Quest. Many critics consider it her most substantial work. [Martha Quest - 1952; A Proper Marriage - 1954; A Ripple from the Storm - 1958; Landlocked - 1965; The Four-Gated City - 1969]
1971
Briefing for a Descent into Hell published. Shortlisted for the Booker Prize. The story of a man who is supposedly "mad." Influenced by R.D. Laing's The Divided Self. Highly experimental in form and voice. Lessing calls it "a journey into inner space."
1979
Shikasta published. The first volume in the Canopus in Argos series. [Shikasta - 1979; The Marriages Between Zones Three, Four and Five - 1980; The Sirian Experiments - 1980 (Shortlisted for the Booker Prize); The Making of the Representative for Planet 8 - 1982; The Sentimental Agents in the Volyen Empire - 1983]
1985
The Good Terrorist published. This satire examines the events in the life of a well-meaning squatter, Alice, who is drawn into organizing acts of violence. Shortlisted for the Booker Prize.
1994
Under My Skin, the fist volume of her autobiography, published. She writes not only about herself but about Britain as its empire declined, offering both personal and cultural history.
1999
Mara and Dann published. A vision of global catastrophe forcing humanity to return to a more primitive life. From collapse and chaos emerge the elementary qualities that allow us to retain hope in humanity. The same theme is present in the sequel, The Story of General Dann and Mara's Daughter, Griot and the Snow Dog (2005).
Refuses to be awarded the distinction of "Dame of the British Empire," pointing out that the empire no longer exists. Is made a "Companion of Honour" instead.
2007
Nobel Prize - oldest recipient of the literary Nobel.
2013
Dies peacefully at her London home, aged 94. Her younger son, Peter, whom she cared for through years of illness, died three weeks before her.
That is what learning is. You suddenly understand something you've understood all your life, but in a new way.