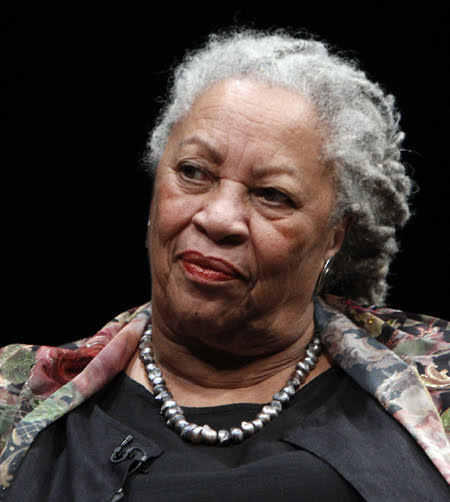 Toni Morrison
1931
18 February: Chloe Ardelia Wofford is born in Lorain, Ohio, the second of four children born to George and Ramah Willis Wofford. (Toni Morrison, the name by which she is later widely known, is a mix of a college nickname and her married name.)
1949
Wofford enrolls at Howard University, the historically black university in Washington, D.C.
1953
Wofford receives her BA in English from Howard.
1955
Wofford is awarded an MA in English from Cornell. Her thesis examines the appearance of suicide in the novels of William Faulkner and Virginia Woolf.
Accepts a teaching position at Texas Southern University in Houston.
1957
After two years at Texas Southern, Wofford joins the faculty at Howard University as an English instructor.
1958
Wofford marries Harold Morrison, a fellow faculty member at Howard. Though the couple has two sons, the marriage to the Jamaican-born architect is troubled.
1964
TM and Harold divorce. Soon after, TM moves to Syracuse and takes a position as a textbook editor in order to support herself and her two sons.
1968
TM moves to New York City to work as an editor for Random House. She takes special interest in the works of female African-Americans like Toni Cade Bambera, and is instrumental in bringing their books to print.
1970
The Bluest Eye, her first novel, is published. TM writes the book, the story of a young black girl who yearns to be white, at night while her sons are sleeping.
1973
Sula is published. It is set in a poor black neighborhood in Ohio. It is nominated for the National Book Award.
1977
Song of Solomon is published. It is her first novel told from the perspective of a man. It is the first Book-of-the-Month Club main selection by a black writer since Richard Wright's Native Son 37 years earlier. The book also receives the National Book Critics Circle Award.
1981
Tar Baby is published.
1983
TM leaves Random House after fifteen years as an editor to devote more time to writing and her frequent college teaching positions.
1984
TM accepts the Albert Schweitzer chair at the University of Albany, State University of New York.
1987
Beloved is published to overwhelming critical and commercial success. When the book fails to win National Book Award, 48 black writers and literary critics publish a letter of protest in the New York Times Book Review.
1988
TM is awarded the Pulitzer Prize for Beloved.
1989
TM accepts the Robert F. Goheen Chair in the Humanities at Princeton University.
1992
Jazz, a story about a Southern black couple living in Harlem, is published.
1993
TM becomes the eighth woman and the first black woman to receive the Nobel Prize in Literature. In bestowing the prize, the Nobel committee says that Morrison's novels are "characterized by visionary force and poetic import."
25 December: TM's home in Rockland County, New York, burns to the ground on Christmas Day in an accidental fire. Though some of her manuscripts are salvaged from the fire, Morrison is devastated by the loss of decades' worth of photographs, mementos, and family heirlooms.
1996
The National Endowment for the Humanities grants TM the Jefferson Lecture, the U.S. government's highest honor for the humanities.
TM receives the National Book Foundation's Medal of Distinguished Contribution to American Letters.
1997
Paradise is published. Critics are hard on the novel, her first since receiving the Pulitzer Prize.
1998
TM publishes a piece in The New Yorker during the impeachment scandal of President Bill Clinton, comparing his treatment to that of African-Americans.
Years ago, in the middle of the Whitewater investigation, one heard the first murmurs: white skin notwithstanding, this is our first black President. Blacker than any actual black person who could ever be elected in our children's lifetime. After all, Clinton displays almost every trope of blackness: single-parent household, born poor, working-class, saxophone-playing, McDonald's-and-junk-food-loving boy from Arkansas
The sentence calling Clinton "the first black president" is widely misinterpreted.
1999
TM publishes a children's book, The Big Box, with her son Slade.
2002
Slade and TM publish a second children's book, The Book of Mean People.
2003
Love is published. Although it receives several negative reviews, TM defends it as the best book she has ever written.
2006
TM retires from Princeton after seventeen years of teaching at the school.
2008
A Mercy is published.
2010
Slade dies of pancreatic cancer.
2012
Home is published. TM dedicates it to Slade. It is the story of a Korean War veteran in the segregated United States of the 1950s, who tries to save his sister from brutal medical experiments at the hands of a white doctor.
TM is awarded the Presidential Medal of Freedom.
2015
God Help the Child is published. It follows Bride, an executive in the fashion and beauty industry whose mother tormented her as a child for being dark-skinned—a childhood trauma that has dogged Bride her whole life.
"You do not deserve love regardless of the suffering you have endured. You do not deserve love because somebody did you wrong. You do not deserve love just because you want it. You can only earn — by practice and careful contemplations — the right to express it and you have to learn how to accept it."