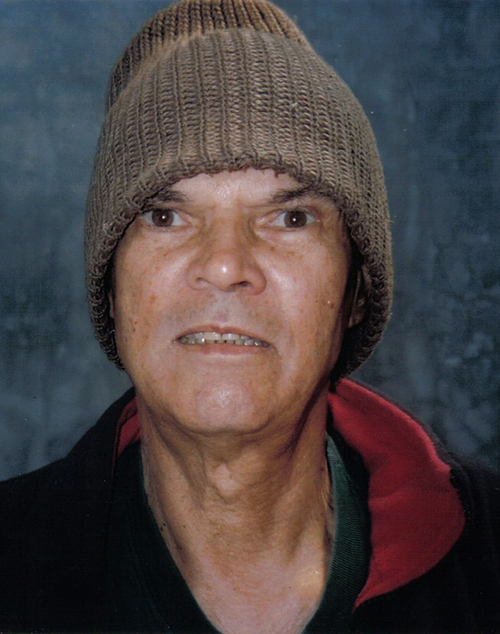 Mudrooroo
(Mudrooroo Nyoongah, Colin Johnson)
1938
21 August: Born Colin Thomas Johnson at East Cubelling (near Narrogin) in Western Australia. Fathere dies while M's mother is pregnant with him. M is the youngest of 12 children, 8 of whom had been taken into state care following the death of his father.
1947
While living with his mother, who was declared destitute, M and an older sister are charged with theft and are "sent to institutions in Perth" by the magistrate. M is placed in Clontarf Boys' Town, a boys home run by the Christian Brothers just outside of Perth.
1954
Leaves the orphanage. The Catholic Welfare society finds him a clerical job which he loathes and abandons for a life on the streets.
1956
M sentenced to twelve months imprisonment in Fremantle Prison.
1957
Meets Dame Mary Durack, a wealthy Western Australian novelist and poet, invites him to stay with her on his release and later sends him to Melbourne. M later says, "without her, I doubt I would have become a writer."
1965
Publishes first novel,Wild Cat Falling. The work is heavily influenced by the poetry of Ginsberg and the prose of Kerouac.
Meets and marries Jennie Katinas, a refugee from Lithuania who introduces him to European style and fashion.
1967
Penguin Books buys the paperback rights toWild Cat Falling, giving M enough money to go to India with his wife. They meett Lama Kalu Rinpoche with whom they study and receive initiations. They later travel across India to Dalhousie, where they receive an initiation from His Holiness the Dalai Lama. However, Jennie misses her family and returns to Australia. M stays to become a realDharma Bum, a Buddhist Monk, and spends the next six years wandering India with the Vipassanā meditation teacher S.N. Goenka, giving meditation camps. Although a powerful teacher, Mudrooroo remains a layman and begins thinking about whether it is better to return to his old life.
1974
Returns to Melbourne.
1975
Travels to San Francisco, meets Ferlinghetti, ends up living on the streets, then in a Salvation Army workshop which cares for the homeless in exchange for work.
Finishes his second novel,Long Live Sandawara and returns to Melbourne, where he meets Aboriginal activist Harry Penrith (later known as Burnum Burnum) and through him becomes active in Aboriginal Affairs.
1976
M and Penrith go to Monash University where M works at the Aboriginal Research Centre. M writes a short introduction into Aboriginal Life calledBefore the Invasion. Begins writingDr.Woreddy's Prescription for Enduring the Ending of the World and goes to Tasmania to research the book. A Tasmanian Aboriginal, a Mansell elder, takes him over the island, telling him stories.
1977
Back in Melbourne, begins a B.A. (Hons.) course at Melbourne University.
1983
Dr.Wooreddy's Prescription for Enduring the Ending of the World published.
Marries Julie Whiting, a university librarian and later academic.
1988
Aboriginal uprising in Australia, coinciding with Australian Bicentennial celebration. M visits Aboriginal settlements to find out how the people live. He coins the term, "Aboriginality." As a political act he legally changes his name to "Mudrooroo" after talking it over with Oodgeroo Noonuccal, an early Aboriginal poet. He adds "Nyoongah" later when he returns to his SW Australian land and needs a second name to change his name legally by deed poll. "Mudrooroo" means "paperbark" (an Australian tree) in the Noongar language of southwestern Australia (which is by then a dead language) and "nyoongah" simply means person.
1991
Master of the Ghost Dreaming is published, the first novel in his Master series. This retells the story of Doctor Wooreddy. M was dissatisfied with the realism of Doctor Wooreddy and redid the narrative using what he calls "maban realism," which would more accurately reflect the Aboriginal experience of white colonization. Maban realism, according to M, is akin to other forms of magic realism, but is informed by his conception of an Australian Indigenous world view
1996
A member of the Nyoongah community questioning Mudrooroo's Aboriginality approaches journalist Victoria Laurie. Informed that Mudrooroo's sister, Betty Polglaze, had conducted genealogical research in 1992 that traced her family back five generations, Laurie contacts Polglaze, who tells her that she could find no trace of Aboriginal ancestry in the family. Laurie writes an article for her newspaper titled "Identity Crisis," sparking a scandal that received nationwide media coverage in for the next two years.
Polglaze's research found that her family were direct descendants of Irish immigrants Edward and Jane Barron, who had arrived in Western Australia in 1829, and that their paternal grandfather was Thomas Creighton Johnson, an African American who had arrived in the colony of New South Wales from North Carolina in 1863 and who later married an Irish immigrant, Mary Gallagher, in 1868. M rejected the genealogy, suggesting that the mother listed on his birth certificate "may not have been" his real mother. His brothers and sisters requested he take a DNA test, which he declined. Similarly, a request by the Nyoongah community to substantiate his claimed kinship to the Kickett family was not acknowledged and on 27 July 1996 the Nyoongah elders released a public statement: "The Kickett family rejects Colin Johnson's claim to his Aboriginality and any kinship ties to the family." M's prior statements about Indigenous writers such as Sally Morgan, whom he excluded from his definition of Aboriginality, did not assist his cause. He had said of Morgan's book My Place, that it made Aboriginality acceptable so long as you were "young, gifted and not very black." M's writings had placed emphasis on kinship and family links as key features of Aboriginal identity. His rejection of his biological family deeply offended the Aboriginal community.
The resulting scandal and public debate over issues of authenticity and what constitutes Aboriginal identity leads to some instructors removing M's books from academic courses. M is later unable to find a publisher for a sequel to his previous novel. Initially, many people come to M's defense, some claiming it was a "white conspiracy" or a racist attack on Aboriginality, with some claiming Polglaze's "amateur sleuthing" was being exploited. Award-winning Indigenous author Graeme Dixon called on M to come forward and tell the truth, stressing that it was important to "out" pretenders and reclaim Aboriginal culture. Several authors see evidence in his writings that M deliberately assumed an Aboriginal identity to legitimize his work when in his early 20s, although it remains possible he was unaware. Editor Gerhard Fischer believes that it was Dame Mary Durack who "defined and determined" his Aboriginal identity. In an article published in 1997, M describes Durack's foreword to his first novel as the origin of the "re-writing of his body" as Aboriginal. M later replies to his critics, stating that his dark skin means he was always treated as Aboriginal by society, therefore his life experience was that of an Aborigine.
1998
The Undying published, second in The Master series.
M retires from public life following the controversy over his identity and identification, living for a time on Macleay Island off the coast of Queensland.
1999
Underground, third in The Master series, is published.
2000
The Promised Land, the final book in The Master series, is published.
2001
M travels to Nepal, where he marries Sangya Magar, an Indigenous Nepali, on 22 May 2002.
2002
M begins writing his autobiography, which he considers his major work. M is diagnosed with prostate cancer, with perhaps only a few years to live.
2010
In November, M does a three-week Buddhist sutra retreat to get over his trauma. After three weeks, he regains enough strength to get up and continue his autobiography, which he hopes to finish before his life ends.
2015
M returns to writing with the novel An Indecent Obsession and a volume of poetry, Old Fellow Poems.
2016
M publishes Doin' Wildcat, a metafictional, postcolonial novel which addresses his Aboriginal identity controversy and he media fallout from it. It is reminiscent of Barth's most popular work.
Our spirituality is a oneness and an interconnectedness with all that lives and breathes, even with all that does not live or breathe. It is not a matter of this religion or that religion, of traditional beliefs or non-traditional. It is a feeling of oneness, of belonging.