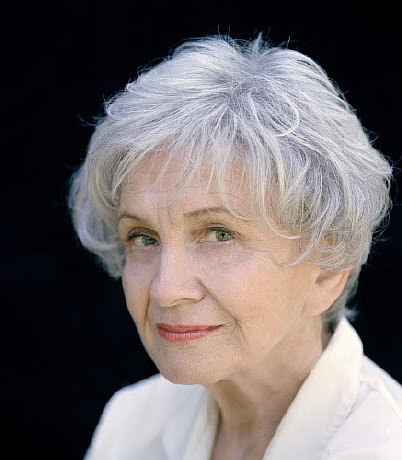 Alice Munro
1931
July 10: Born in Wingham, Ontario, to Robert Eric Laidlaw, a fox farmer, and his ailing but ambitious wife, Ann Chamney Laidlaw.
1943
Her mother develops Parkinson's Disease.
1949
AM attends the University of Western Ontario.
1950
First published short story, in a student literary journal.
1951
Marries James Munro and moves to Vancouver, where she and her husband have two daughters.
1963
Moves to Victoria, British Columbia,
1966
Has third daughter.
1969
Her first collection, Dance of the Happy Shades, wins the Governor General's Literary Award for fiction.
1971
Lives of Girls and Women, a collection of interlinked stories, is published as a novel and wins the Canadian Booksellers Association International Book Year Award.
1972
Separates from her husband. Moves to London, Ontario. Becomes Writer-in-Residence at the University of Western Ontario.
1976
Divorced. Marries Gerald Fremlin; they move to the small town of Clinton, Ontario, a few miles southwest of her birthplace.
1978
Her collection of interlinked stories, Who Do You Think You Are?, is published, and earns Munro the Governor General's Literary Award for a second time.
1979-82
Tours Australia, China and Scandinavia.
1980
Holds the position of Writer-in-Residence at both the University of British Columbia and the University of Queensland.
1982
Moons of Jupiter is published.
1986
The Progress of Love is published; wins Governor General's Literary Award and Marian Engel Prize.
1990
Friend of My Youth is published; wins Canada Council Molson Prize.
1994
Open Secrets is published.
1996
Selected Stories is published.
1998
The Love Of A Good Woman is published. Wins the National Book Critics Circle Award.
2001
Hateship, Friendship, Courtship, Loveship, Marriage is published.
2004
Runaway is published.
2006
Carried Away is published.
2006
The View From Castle Rock is published.
2009
Wins the Man Booker International Prize, for her body of work and the contribution she has made to "fiction on the world stage."
Too Much Happiness is published.
2012
Dear Life is published.
2013
Awarded the Nobel Prize. The Committee notes,
Through their complexity, through their clarity, and through their precision, the stories Munro has published capture the very feelings of what it is like to live, to be alive. The feeling of just being a human being. From first to last—whichever one the last may be—Munro's stories reveal her as a consummate artist who is without question among the most accomplished masters of the short story.
2014
Family Furnishings is published.
The complexity of things—the things within things—just seems to be endless. I mean nothing is easy, nothing is simple.