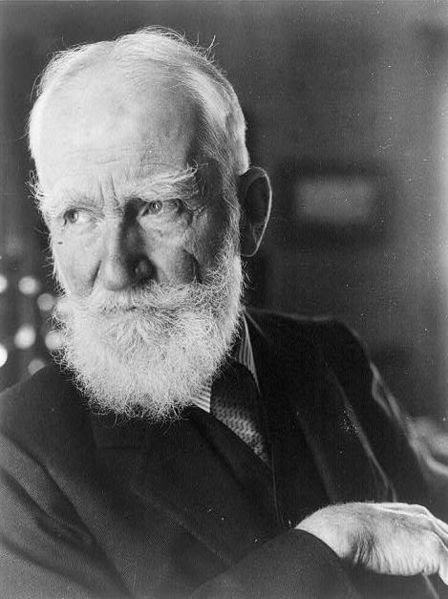 George Bernard Shaw
1852
George Carr Shaw and Lucinda Elizabeth Gurly marry.
1856
26 July: GBS born.
1871
GBS leaves school, becomes a clerk.
1872
Juvenile literary collaboration with Matthew Edward McNulty.
1873
Mother emigrates to London.
1876
Emigrates to London in March.
1877
Does ghostwriting, begins visits to the British Museum.
1878
My Dear Dorothea and Passion Play (latter was unfinished).
1879
Completes Immaturity, first novel, and tries work at the Edison Telephone Company.
1880
Begins addressing audiences at Zetetical Society. Writes second novel, The Irrational Knot. Meets Sidney Webb.
1881
Becomes a vegetarian. Begins third novel. Contracts smallpox.
1882
Completes third novel, Love Among the Artists.
1883
Completes fourth novel, Cashel Byron's Profession. Competes in amateur boxing championships. Reads Karl Marx. Writes fifth novel, An Unsocial Socialist.
1884
Joins Fabian Society. Abortive dramatic collaboration with William Archer. A serialized Unsocial Socialist attracts the attention of William Morris.
1885
Father dies. Begins affair with Jenny Patterson. "Mystic Betrothal" to May Morris. Begins writing book reviews for the Pall Mall Gazette (to December 1888).
1886
Writes art criticism for The World (through November 1890).
1887
Intimate friendship with Annie Besant. Speaks and marches in socialist demonstration on Bloody Sunday, in Trafalgar Square.
1888
Havelock Ellis invites a contribution to his Contemporary Science series. Involved with numerous women. Much work as a journalist, and a Fabian speaker.
1889
Writes music criticism as "Corno di Bassetto" in The Star (through May 1890). Edits Fabian Essays, writes two.
1890
Meets Florence Farr. Music critic "G.B.S." in The World (through August 1894).
1891
The Quintessence of Ibsenism.
1892
Completes Widowers' Houses (begun 1884).
1893
Ends affair with Jenny Patterson. Writes The Philanderer, Mrs. Warren's Profession (banned by censor).
1894
Completes Arms and the Man, writes Candida.
1895
Writes The Man of Destiny. A Degenerate's View of Nordau (revised as The Sanity of Art, 1908).
1895-1898
Writes theater criticism for The Saturday Review.
1895-1900
Maintains "paper courtship" with Ellen Terry.
1896
Meets Charlotte Payne-Townshend. Completes You Never Can Tell, writes The Devil's Disciple.
1897
Elected vestryman, St. Pancras ward.
1898
Health breaks down. Marries Charlotte Payne-Townshend. Defends George Bedborough, who was arrested for selling copies of Havelock Ellis' Sexual Inversion. Writes The Perfect Wagnerite, Caesar and Cleopatra.
1899
Convalesces, writes Captain Brassbound's Conversion.
1901
Writes The Admirable Bashville.
1902
Completes Man and Superman (published 1903).
1904
Writes John Bull's Other Island, How He Lied to Her Husband.
1905
Writes Major Barbara.
1906
Writes The Doctor's Dilemma.
1908
Completes Getting Married.
1909
Writes The Shewing-Up of Blanco Posnet (banned by censor), Press Cuttings (banned by censor), The Fascinating Foundling, Misalliance.
1910
Writes The Dark Lady of the Sonnets.
1911
Completes Fanny's First Play.
1912
Writes Androcles and the Lion; writes Pygmalion; infatuated with his Eliza, Mrs. Patrick Campbell; writes Overruled.
1913
Mother dies. Writes Great Catherine.
1914
Common Sense About the War appears.
1915
Writes playlets The Inca of Perusalem, O'Flaherty, V.C.
1916
Begins Heartbreak House.
1917
Completes Heartbreak House (published 1919), writes Augustus Does His Bit, Annajanska.
1918-1920
Back to Methuselah (published 1921).
1920
Sister Lucinda Frances dies.
1921
Completes translation and adaptation of Jitta's Atonement, drama by Siegfried Trebitsch, his German translator.
1922
Meets T.E. Lawrence (Lawrence of Arabia).
1923
Writes Saint Joan. T.E. Lawrence calls himself T.E. Shaw.
1924
Edits Seven Pillars of Wisdom by T.E. Lawrence, published 1926.
1926
Awarded the Nobel Prize for Literature (for 1925).
1927
Completes The Intelligent Woman's Guide to Socialism and Capitalism.
1928
Writes Apple Cart. Protests censorship of Radclyffe Hall's lesbian novel The Well of Loneliness.
1929
Vacations with Gene Tunney on Italian isle of Brioni. Addresses the International Congress of the World League for Sexual Reform.
1930-1938
Collected edition of works appears.
1931
Visits Russia, meets Josef Stalin, Maxim Gorki, Konstantin Stanislavsky. Meets Mahatma Gandhi. Writes Too True to Be Good.
1932
Writes and publishes The Adventures of the Black Girl in Her Search for God, a fable.
1933
First visit to America. Writes Village Wooing, On the Rocks.
1934
Writes The Simpleton of the Unexpected Isles, The Millionairess, The Six of Calais.
1936
Writes Geneva (final revision 1947), Cymbeline Refinished.
1938
Edits Oscar Wilde, by Frank Harris.
1939
Wins Academy Award for the screenplay of Pygmalion (for 1938). Completes In Good King Charles's Golden Days.
1943
Charlotte Shaw dies.
1944
Publishes Everybody's Political What's What? a labor of several years.
1947
Completes Buoyant Billions.
1948
Writes Farfetched Fables.
1949
Writes Shakes Versus Shaw. Publishes Sixteen Self Sketches.
1950
Writes Why She Would Not to celebrate his ninety-fourth birthday. Works on Bernard Shaw's Rhyming Picture Guide to Ayot Saint Lawrence. Dies 2 November.
Life isn't about finding yourself. Life is about creating yourself.