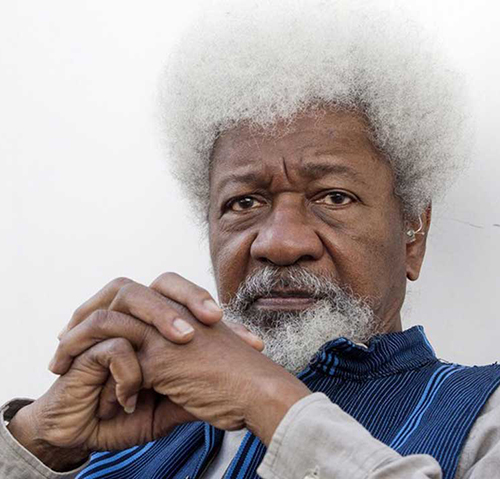 Wole Soyinka
1934
13 July: Born Oluwole Akinwande Soyinka in Ijebu Isara in Western Nigeria. His father Ayo was a school supervisor and his mother Eniola "a trader."
c. 1940-1952
Attends primary school in Abeokuta and secondary school at Government College, Ibadan.
1952-54
University College, Ibadan, an institution affiliated with the University of London.
1954-1957
University of Leeds (UK). Receives Honors Degree in English Literature.
1957
Begins work for M. A. at Leeds but abandons graduate studies to work in theater; serves as play reader for Royal Court Theatre, London.
1958
September: Produces The Swamp Dwellers for the University of London Drama Festival.
1959
February: The Swamp Dwellers and The Lion and the Jewel produced in Ibadan; November: Writes, produces, and acts in a An Evening without Decor, a medley of his work, at the Royal Court Theatre, London; attacks racism and colonial repression in Africa in these and other works.
1960
Returns to Nigeria; March: The Trials of Brother Jero produced at Ibadan; May: Acts role of Yang Sun in The Good Woman of Setzuan at Ibadan; October: completes, directs, and acts in A Dance of the Forests with his own acting company, 1960 Masks. December: "Towards a True Theatre" (essay); writes political satire on based on the political situation in Western Nigeria.
1960-62
Rockefeller Research Fellow; attached to English Department at the University of Ibadan studying African drama.
1961-64
Directs plays by other playwrights, Ibadan; attacks political intriguing, corruption, and manipulation of mass media in The (new) Republican and Before the Blackout.
1962-1963
Lecturer, Department of English, University of Ife.
1964
December: Founds, with others, the Drama Association of Nigeria.
1965
The Interpreters (novel) published in London.
1965-67
Senior lecturer, Department of English, University of Lagos; criticizes personality cults and dictatorships in Africa.
1966
April: Revives Kongi's Harvest, Dakkar festival; shares the John Whiting Award with Tom Stoppard.
1967
Head of the Department of Theater Arts, University of Ibadan; June: "The Writer in a Modern African State." October: imprisoned for writings sympathetic to secessionist Biafra
1969
August: released from prison after 22 months.
Poems from Prison is published in London.
1970
August: Completes and directs Madmen and Specialists with Ibadan University Theare Arts Company at Yale University; play tours to Harlem.
1971
Testifies before Kazeem Enquiry on violation of students' rights.
1972
Publishes his prison notes, The Man Died.
1973
Honorary Ph. D., University of Leeds; Season of Anomy (novel); Collected Plays I.
1973-74
Overseas Fellow, Churchill College, Cambridge, and Visiting Professor of English, University of Sheffield; Collected Plays II.
1976
Visiting Professor, Institute of African Studies, University of Ghana, Legon; Professor, University of Ife; December: produces Death and the King's Horseman, Ife.
1981
Aké: The Years of Childhood (autobiography).
1986
Awarded Nobel Prize for Literature. Fellow, Society for the Humanities, Cornell University; Agip Prize for Literature; Awarded of Nigeria's second highest honour, Commander of the Federal Republic, CFR.
1993
Honorary doctorate, Harvard University.
1994
Ibadan: The Penkelemes Years (A Memoir: 1946-1965) (autobiography); Memories of a Nigerian Childhood; Flees Nigeria (November).
1996
The Open Sore of a Continent: A Personal Narrative of the Nigerian Crisis
Joins the faculty at Emory University.
1997
March: Charged with treason by military dictatorship. Has death sentence registered against him in absentia.
1999
Civilian rule returns to Nigeria; WS returns as an Emeritus Professorship at Ife (now Obafemi Awolowo University) on the condition that the university bar all former military officers from the position of chancellor.
2007
April: Nigeria's elections are rigged, spearheaded by Gen. Obasanjo and the Institute for National Electoral Chicanery (Soyinka's coinage) led by Maurice Iwu; Soyinka protests publicly.
2008
WS directs that the cash prize attached to the National Merit Award (NMA) conferred on him by the federal government of Nigeria be used for the reform of the Supreme Court, because it approved the 2007 elections.
2014
WS given the International Humanist Award
Diagnosed with prostate cancer.
2016
December: WS gives up his status as a Lawful Permanent Resident of the U.S., along with his immigration benefits.
"It is something of a minor miracle that someone as outspoken as Soyinka has managed to survive the wrath of the succession of psychopaths and despots that have misruled Nigeria. He remains a public figure in the truest sense of the word."