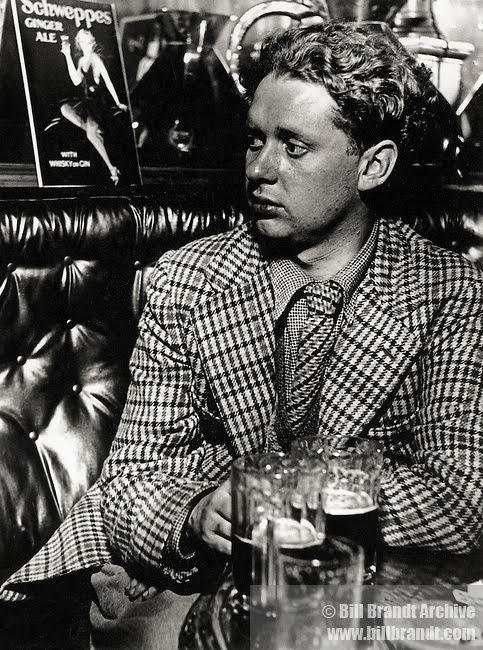 Dylan Thomas
1914
7 October: Dylan Marlais Thomas is born in Swansea, South Wales.
1925
DT becomes a pupil at Swansea Grammar School, where his father teaches English.
December 1925
DT's first poem is published in the school magazine, which he later edits.
1927
The poem "His Requiem" appears in Wales' Western Mail newspaper.
1930
DT begins the first of four notebooks containing his poetry.
1931
DT leaves school to become a reporter for the South Wales Evening Post.
1932
DT leaves his job at the Evening Post, though he continues as a freelance journalist.
1933
March: "And Death Shall Have No Dominion" is published in the New English Weekly.
1934
DT moves to London.
DT's first poetry volume, 18 Poems, is published.
1936
DT moves to Cornwall. Meets Caitlin Macnamara.
His second poem collection, Twenty-five Poems, is published.
1937
21 April: DT makes his first radio broadcast, "Life And The Modern Poet."
11 July: Marries Caitlin Macnamara in Penzance, Cornwall.
1938
April: The couple move to his parents' house in Swansea.
May: They move to Laugharne.
1939
30 January: The couple's first son, Llewelyn, is born.
August: A collection of poems and prose, The Map Of Love, is published.
December: The World I Breathe becomes DT's first collection published in America.
1940
Portrait Of The Artist As A Young Dog, a collection of autobiographical short stories, is published.
July: Leaves Laugharne to move to London. The family moves between London and Wales frequently during the war.
October: Begins writing film scripts for the Strand Film Company.
1943
3 March: Daughter Aeronwy is born in London. She is named after Cardiganshire's Aeron river.
September: The family joins his parents at Llangain, near the Fernhill farm which later inspires the poem "Fern Hill."
1944
February: The family moves to Bosham in Sussex.
September: The family moves to New Quay in Cardigan Bay.
14 December: Records "Quite Early One Morning," a predecessor of "Under Milk Wood," in London for the BBC Welsh Home Service.
1945
6 December: Records "Memories Of Christmas" for the BBC Welsh Service Children's Hour.
1946
February: The poetry collection Deaths And Entrances, which contains "Fern Hill," is published.
Selected Writings is published in America.
1949
24 July: Son Colm is born in Carmarthen Hospital.
1950
February: DT begins his first American lecture tour.
1952
February: DT's collection In Country Sleep is published in America.
DT does a second American tour, with Caitlin.
10 November: Collected Poems 1934-1952 is published in Britain.
1953
April-June: Third American tour.
9 October: Leaves Laugharne for the final American tour.
27 October: DT's 39th birthday.
October-November: Goes on a sustained drinking binge in New York.
4 November: Falls into a coma.
7 November: Caitlin flies to New York.
9 November: DT dies at St Vincent's Hospital, New York.
I hold a beast, an angel, and a madman in me, and my enquiry is as to their working, and my problem is their subjugation and victory, downthrow and upheaval, and my effort is their self-expression.