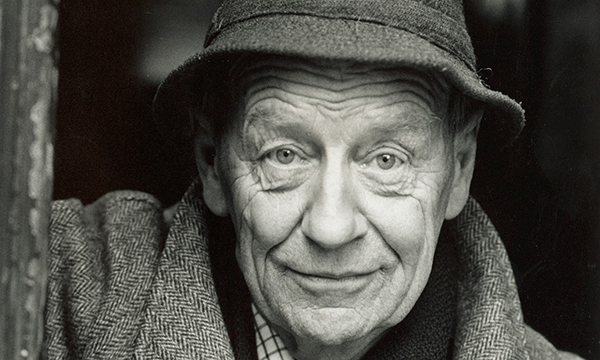 William Trevor
1928
24 May: Born William Trevor Cox in Mitchelstown, County Cork. His father was a bank officer, whose job required him to move frequently. WT's early education was sporadic.
1940
Attends boarding school in Dublin.
1942
Enters St. Columba's College in Dublin. Studies sculpture under Oisin Kelly.
1946
Enrolls in Trinity College, Dublin.
1950
Is graduated from Trinity with a BA in History, attempts to earn a living as a sculptor.
1951
Marries Jane Ryan, whom he met at Trinity.
1952
Wins award for his sculpture. Emigrates to England.
1958
Has one-man show in Bath, but is souring on his sculpture. Turns to writing and publishes his first novel, A Standard of Behaviour, under the name of William Trevor.
1960
Begins work as a copywriter. Begins work on The Old Boys.
1965
The Old Boys wins the Hawthornden Prize for Literature. WT leaves advertising for full-time writing. Moves to Devon to write, in an old mill with 40 acres.
1970
Mrs. Eckdorf in O'Neill's Hotel is shortlisted for the Booker Prize.
1975
Royal Society of Literature Award for Angels at the Ritz and Other Stories. This collection is called by Graham Greene, "one of the finest collections, if not the best, since James Joyce's Dubliners."
1976
The Children of Dynmouth wins the Whitbread Award, the Allied Irish Banks Prize for fiction, the Heinemann Award for Fiction, and is shortlisted for the Booker Prize.
1977
WT made an honorary CBE for his contributions to literature.
1980
Giles Cooper Award for Beyond the Pale.
1982
Giles Cooper Award for Autumn Sunshine.
1983
Whitbread Prize for Fools of Fortune.
1991
Reading Turgenev is shortlisted for the Booker Prize.
1994
Whitbread Book of the Year award for Felicia's Journey.
1999
David Cohen Prize by the Arts Council of England in recognition of his work.
2001
Irish Literature Prize
2002
Irish PEN Award. The Story of Lucy Gault is shortlisted for the Booker Prize and the Whitbread Award, and wins the Listowel Prize for Irish literature. WT is knighted.
2003
Kerry Group Irish Fiction Award at the Listowel Writers' Week
2004
A Bit On the Side, a collection of short stories about adultery.
2007
Cheating at Canasta
2008
Bob Hughes Lifetime Achievement Award in Irish Literature
2009
Love and Summer is shortlisted for the Booker Prize. The Collected Stories published.
2011
Love and Summer wins the International Dublin Literary Award.
2015
Made Saoi of Aosdána, the highest honour of the state-supported association of Irish artists
2016
20 November: Dies at home in Devon.
He's the greatest writer you never heard of. "In literary circles, which he avoided, his exquisitely crafted stories were mentioned in the same breath as Maupassant, Chekhov and Joyce. Had he cared about the critics, which he did not, he would have been flattered by the comparison: especially with Joyce, whose Dubliners had done much to set him on his path."