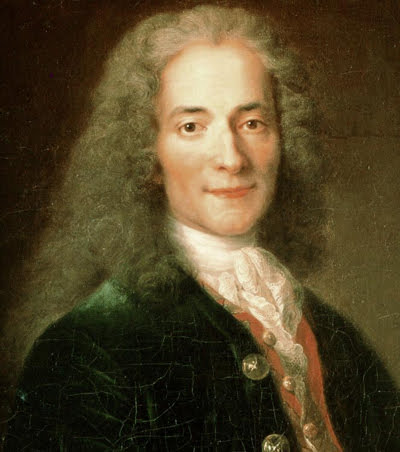 Voltaire (Francois Marie Arouet) (Arouet de Voltaire)
1694
November 21, born in Paris to a wealthy family. His early influences include friends of his mother, who are interested in belles-letters and Deism. Begins writing poetry at a very early age.
1701
Upon the death of his mother he inherits a decent amount of money. He's educated at home by the Abbé de Chateauneuf. He later claims to have learned nothing from him but how to read dirty poetry and swear.
1704
Attends College Louis-le-Grand, a Jesuit institution, where he spends more time with his teachers than with his peers. He receives a general classical education, and falls in love with the theater, both in French and in Latin. His time here convinces him that he should be a writer.
1711
His father wants him to study law, but he wants to write. He studies law for a while, but gives it up quickly.
1713
He is sent to Holland by his father, who wishes to keep him away from some of his more unsavory friends. When he returns he works for a while in a lawyer's office.
1714
His satirical poems get him in trouble and his father sends him away once more, this time to the estate of Marquis de Saint-Ange.
1715
Returns to Paris and is introduced to another, more reputable coterie of friends, a social circle headed by the Duchesse du Maine, who hated the Regent Orleans.
1716
Having written poems which lampooned the Regent, he is exiled to Tulle, then Sully.
1717
Returns to Paris, but is accused of writing two libelous poems (which he probably did not write), one of them the famous "I Have Seen." He is sentenced to the Bastille for eleven months, where he begins Henriade, an epic poem which focuses on the monarchy of England's King Henry IV. The poem was initially banned by the Catholic-dominated French government, because it praised elements of Protestant England's society and government. While imprisoned, he also writes Oedipus, based on Sophocles's Oedipus Rex.
1718
Stages Oedipus. It is very successful and he is hailed as a great writer.
1722
Begins his adventures as a "secret diplomat" to Dubois.
1723
Publishes Henriade.
1726
Sent to the Bastille once more as a result of a quarrel with the Chevalier de Rohan. Released two weeks later and exiled to England where, for the next three years, he learns English and watches many Shakespearean productions.
1729
Returns to Paris.
1732
Produces Zaire, one of his two best plays.
1733
Publishes Letters on the English Nation which gets him in trouble again, as its praise of the English is only a guise for criticism of both the church and state of France. He flees to Lorraine where he spends the next fifteen years at the Chateau de Cirey with his mistress Emile de Breteuil, Marquise du Chatelet.
1735
Once more given liberty to return to Paris, but he remains at Cirey, only occasionally returning to Paris.
1745
Appointed Royal Historiographer of France.
1746
Elected to the French Academy.
1748
Publishes Zadig, a philosophical tale.
1749
Emile de Breteuil discovers she is pregnant and dies of fever after giving birth to Voltaire's child.
1751
Goes to Berlin to serve as philosopher-poet to Frederick the Great. Stays three years.
1752
Publishes The Age of Louis XIV and Micromegas.
1753
Leaves Berlin after a quarrel with Frederick. At the heart of this was V's publication of Die tribe du Docteur Akakia, which lampooned Frederick.
1754
Not being allowed into France, he lives in various towns on the border and finally moves to a Geneva chalet which he calls Les Delices. While in Geneva meets Jean-Jacques Rousseau.
1755
The Great Lisbon Earthquake, at 9:40 am on November 1 (All Saints Day). The quake lasted about 10 minutes. Geologists today estimate the Lisbon earthquake approached magnitude 9 on the Richter scale, with an epicenter in the Atlantic Ocean. Fires broke out, and many buildings which survived the quake were destroyed by the fires. Many city residents took to the waterfront to escape the fires, but just as they got there a series of three tsunamis drowned many. Estimates place the death toll at 100,000 people, making it one of the most destructive earthquakes in history. 85% of the buildings in Lisbon were destroyed.
1759
Publishes Candide, a satiric treatment of Leibniz' solution to the problem of evil in the Theodicy. Moves to Ferney, near Geneva but on French soil, where many celebrated European figures visit him. Already considered the greatest literary genius in France, he also devotes his literary efforts to social reform, earning him the title of Europe's greatest champion of humanity.
1763
Publishes Treatise on Tolerance.
1764
Publishes Dictionnaire Philosophique.
1778
Returns to Paris for the first time in over 20 years, and is treated as a hero. On 30 May, he dies in his sleep. Because of his well-known criticism of the church, which he had refused to retract before his death, Voltaire was denied a Christian burial, but friends managed to bury his body secretly at the Abbey of Scellières in Champagne before this prohibition had been announced. His heart and brain were embalmed separately. In July 1791, the National Assembly, which regarded him as a forerunner of the French revolution, had his remains brought back to Paris to enshrine him in the Panthéon. It is estimated that a million people attended the procession, which stretched throughout Paris.
He was not a man, he was an age. — Victor Hugo
To pray to God is to flatter oneself that with words one can alter nature.
Whatever you do, crush the infamous thing [superstition], and love those who love you.