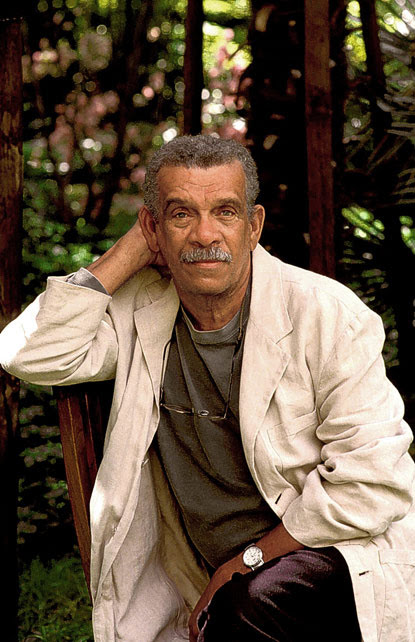 Derek Walcott
1930
3 January: DW and his twin Roderick are born at Castries, St Lucia, an isolated Caribbean island in the West Indies. His father, Warwick, was a Bohemian artist; he died before DWwas born. His mother, Alix, was a teacher, born in Dutch St Maarten. She was very well read and also taught her children to love poetry. DW is the descendent of two white grandfathers and two black grandmothers. Though his first language is a French-English patois, he receives an English education, an apprenticeship in language that his mother supports by reciting English poetry at home and by exposing her children to the European classics at an early age.
DW educated at St Mary's College, Castries.
1949
He begins self-publishing booklets of his own poetry. 25 Poems is published. He receives a scholarship to the University College of the West Indies in Kingston, Jamaica, where he studies French, Latin and Spanish.
1950
His first play, Henri Christopher, is performed.
He founds the St. Lucia Arts Guild.
1953
Moves to Trinidad.
1954
Marries Fay Moston, by whom he has a son, Peter, born 1955.
1957
Takes a job as a reporter at the Trinidad Guardian.
1958
Rockefeller Foundation grant brings him to the U.S. He studies under the American stage director Jose Quintero.
1959
Founds the Trinidad Theatre Workshop.
1962
In a Green Night: Poems 1948-1960 is published.
Marries Margaret Maillard, with whom he has two daughters.
1964
Farrar, Strauss, Giroux publish Selected Poems.
1965
The Castaway and Other Poems is published.
1967
His best-known play, Dream on Monkey Mountain, is premiered.
1969
The Gulf and Other Poems (London, Jonathan Cape) is published.
1972
DW awarded Order of the British Empire.
1973
Another Life is published.
1976
Seagrapes is published.
Resigns as director of Trinidad Theatre Workshop.
1979
Marries Norline Métivier.
The Star-Apple Kingdom is published.
1981
Visiting professor at Columbia and Boston University
1982
The Fortunate Traveller signals his decision to work in the United States
1985
Begins teaching creative writing at Boston University.
1986
Collected Poems 1948-84 is published.
1989
DW becomes the first Commonwealth citizen to be awarded the Queen's Gold Medal for Poetry.
1990
Omeros is published. Walcott says, "The girl who typed it was saying, 'This is going to win the Nobel prize.'"
DW's mother, "Teacher Alix," dies.
1992
Awarded the Nobel Prize for Literature
1993
The Odyssey: A Stage Version is premiered.
1997
The Bounty is published.
2000
Tiepolo's Hound is published, a meditation on art which draws on the story of the Caribbean-born artist Camille Pisarro (1830-1903).
2004
The Prodigal, a verse-memoir, is published. DW calls this his last book.
2009
"The battle to become Oxford professor of poetry in 2009 was worthy of a mock-heroic poem by Alexander Pope. First, the frontrunner Derek Walcott pulled out following a smear campaign that disinterred allegations of sexual harassment dating back to the 1980s and 90s. Then the eventual victor, Ruth Padel, had to resign after less than a fortnight, when she was implicated in the smear. It was an ugly business, but it did get poetry—that most marginalised of literary forms—on to the front pages for a while." -- Stephen Moss, The Guardian, 3 May 2012.
2010
White Egrets is published. It is DW's last collection.
2017
17 March: After a prolonged illness, DW dies at home on St. Lucia.
I who have cursed
The drunken officer of British rule, how choose
Between this Africa and the English tongue I love?
Betray them both, or give back what they give?
How can I face such slaughter and be cool?
How can I turn from Africa and live?