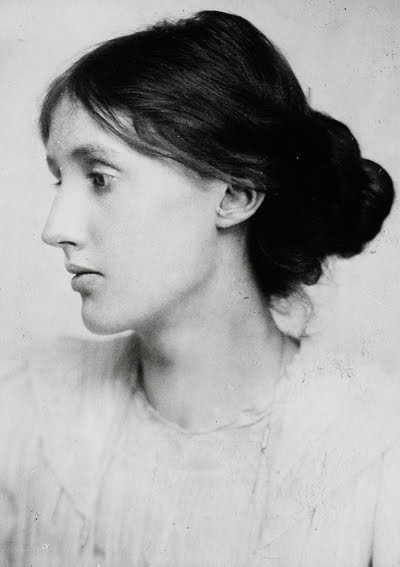 Virginia Woolf
1882
25 January: Born Adeline Virginia Stephen, third child of Leslie Stephen (Victorian man of letters - first editor of the Dictionary of National Biography) - and Julia Duckworth (of the Duckworth publishing family). Comfortable upper middle class family background. Her father had previously been married to the daughter of the novelist William Makepeace Thackery. Brothers Thoby and Adrian went to Cambridge, and her sister Vanessa became a painter. Virginia was educated by private tutors and by extensive reading of literary classics in her father's library.
1895
Death of her mother. VW has the first of many nervous breakdowns.
1897
Death of half-sister, Stella. VW learning Greek and History at King's College London.
1899
Brother Thoby enters Trinity College, Cambridge and subsequently meets Lytton Strachey, Leonard Woolf, and Clive Bell. These Cambridge friends subsequently become known as the Bloomsbury Group, of which VW was an important and influential member.
1904
Death of father. Beginning of second serious breakdown. VW's first publication is an unsigned review in The Guardian. VW moves to Gordon Square in Bloomsbury. Other residents of this Square include Lady Jane Strachey, Charlotte Mew, and Dora Carrington.
1905
Writes reviews and teaches once a week at Morley College, London, an evening institute for working men and women.
1906
Death of brother Thoby Stephen.
1907
Marriage of sister Vanessa to Clive Bell. VW moves with brother Adrian to live in Fitzroy Square. Working on her first novel (to become The Voyage Out).
1909
Lytton Strachey, who is gay, proposes marriage.
1910
Works for women's suffrage. Spends time in a nursing home in Twickenham.
1911
VW moves to Brunswick Square, sharing house with brother Adrian, Maynard Keynes, Duncan Grant, and Leonard Woolf.
1912
Marries Leonard Woolf. Travels for honeymoon to Provence, Spain, and Italy. Moves to Clifford's Inn.
1913
Mental illness and her first attempted suicide. Put in care of husband and nurses.
1915
Purchase of Hogarth House, Richmond. The Voyage Out published and well received. Another bout of violent madness.
1916
Lectures to Richmond branch of the Women's Co-Operative Guild. Regular work for the Times Literary Supplement [whose reviews were at that time anonymous].
1917
L and VW buy a hand printing machine and establish the Hogarth Press. First publication Monday or Tuesday. Later goes on to publish T.S. Eliot, Freud, and VW's own books.
1919
Purchase of Monk's House, Rodmell. Night and Day published. Brief friendship with Katherine Mansfield. Both are conscious of experimenting with the substance and the style of prose fiction.
1920
Works on journalism and Jacob's Room.
1921
The Mark on the Wall published. VW ill for most of the summer.
1922
Jacob's Room is published. Meets Vita Sackville-West, with whom she has a brief love affair. Writing encouraged by E.M. Forster, Strachey, and Leonard Woolf.
1923
Works on "The Hours," which is an early version of Mrs Dalloway.
1925
The Common Reader [essays] and Mrs Dalloway are published. Major break with the traditional novel, its form and techniques.
1926
Unwell with German measles. Starts writing To the Lighthouse.
1927
To the Lighthouse published. Begins Orlando.
1928
Orlando published - a fantasy dedicated to and based upon the life of Vita Sackville-West and her love of her ancestral home at Knole in Kent. Delivers lectures at Cambridge on which she bases A Room of One's Own.
1929
A Room of One's Own published - essays on women's exclusion from literary history which have become of seminal importance in feminist studies.
1930
First meets Ethel Smyth, a pipe-smoking feminist composer, who falls in love with VW. Finishes first version of The Waves.
1931
The Waves - a novel composed of the thoughts of six characters which takes VW's literary experimentation to its natural limits.
1932
Death of Lytton Strachey. Begins "The Partigers" which is to become The Years.
1934
Death of Roger Fry. Rewrites The Years.
1935
Rewrites The Years.
1936
Begins Three Guineas - a 'sequel' to A Room of One's Own.
1938
Three Guineas extends the feminist critique of patriarchy, militarism, and privilege started in A Room of One's Own.
1940
Biography of Roger Fry published. London homes damaged or destroyed in blitz.
1941
VW completes Between the Acts, her last novel, then fearing the madness which she felt engulfing her again, fills her pockets with stones and drowns herself in the River Ouse, near Monk's House.
The only advice, indeed, that one person can give another about reading is to take no advice, to follow your own instincts, to use your own reason, to come to your own conclusions. If this is agreed between us, then I feel at liberty to put forward a few ideas and suggestions because you will not allow them to fetter that independence which is the most important quality that a reader can possess. After all, what laws can be laid down about books? The battle of Waterloo was certainly fought on a certain day; but is Hamlet a better play than Lear? Nobody can say. Each must decide that question for himself. To admit authorities, however heavily furred and gowned, into our libraries and let them tell us how to read, what to read, what value to place upon what we read, is to destroy the spirit of freedom which is the breath of those sanctuaries. Everywhere else we may be bound by laws and conventions-there we have none.