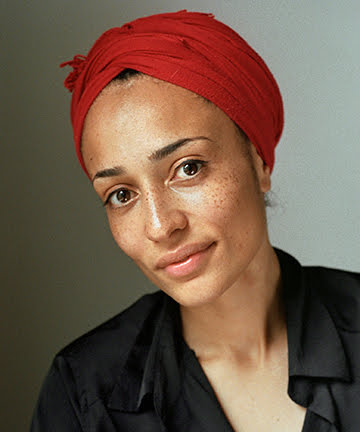 Zadie Smith
1975
27 October: Zadie Smith born as Sadie Smith in the northwest London borough of Brent. Her mother, Yvonne, was Jamaican, and her father, Harvey, was English.
1989
Changes her name to Zadie.
1990
Her parents divorce.
1993-1996
While a university student at Cambridge she earns money as a jazz singer and wishes to become a journalist. She begins writing White Teeth.
1997
ZS publishes the short story "The Newspaper Man" in the 1997 May Anthologies, an annual collection of work by students at the universities of Oxford and Cambridge, which attracts the publisher HarperCollins.
ZS retains Andrew Wylie Literary Agency, who negotiate her a reported advance of £250,000 for her first two books.
ZS is graduated from King's College, Cambridge.
2000
White Teeth is published. Wins the Guardian First Book Award, the Whitbread First Novel Award, and the Commonwealth Writers Prize (Overall Winner, Best First Book). It also wins two EMMA (BT Ethnic and Multicultural Media Awards) for Best Book/Novel and Best Female Media Newcomer, and is shortlisted for the Mail on Sunday/John Llewellyn Rhys Prize, the Orange Prize for Fiction and the Author's Club First Novel Award.
2001
ZS becomes writer in residence at the Institute of Contemporary Arts in London.
2002
White Teeth adapted for television.
The Autograph Man published. It is shortlisted for the Sunday Times Young Writer of the Year Award, the Orange Prize for Fiction, and the Jewish Quarterly Literary Prize for Fiction.
2002-2003
Radcliffe Institute for Advanced Study Fellow at Harvard University.
2004
Marries Nick Laird.
2005
On Beauty published. It is shortlisted for the Man Booker Prize and wins the 2006 Somerset Maugham Award, the Orange Prize for Fiction, the Commonwealth Writers Prize (Eurasia Region, Best Book), and the Anisfield-Wolf Book Awards. It is also shortlisted for the British Book Awards Decibel Writer of the Year and the Bollinger Everyman Wodehouse Prize.
Begins teaching at Columbia University School of the Arts.
2009
Changing My Mind: Occasional Essays published.
Daughter, Katherine, is born.
2010
Takes a position at New York University as a tenured professor of fiction.
2012
NW published.
2013
The Embassy of Cambodia (novella) published.
Smith's storytelling style inspired the term "Hysterical Realism," long-winded, opinionated narratives that evoke emotional richness from mundane events, and are characterized by erratic action and numerous tangents. (this style has also been used to characterize Salman Rushdie, Mikhail Bulgakov, and Jonathan Safran Foer.
2016
Swing Time published.
The greatest lie ever told about love is that it sets you free.